Merry Christmas and Recycling + Toys for Tots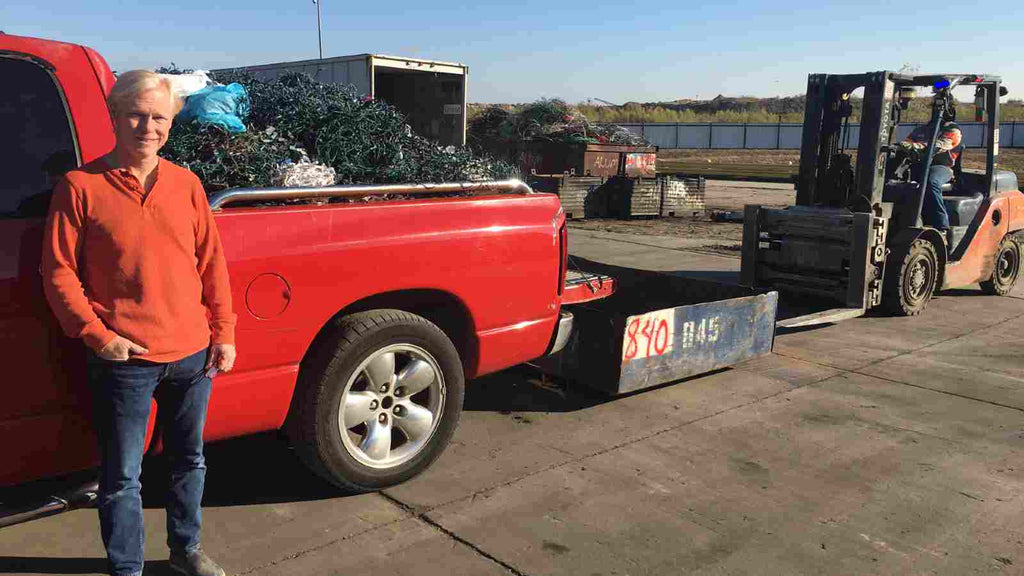 We just made our last recycling run of 2020. Including today's run, 9,995 (that's NINE THOUSAND NINE HUNDRED NINETY-FIVE) pounds of lights were recycled and instead of ending up in a landfill.
Thank you for everyone's participation. Almost $2500 of books, toys, and project kits were delivered to Toys for Tots for 2020.
All year, David and our two boys, Jack and Owen, unpack each box and envelope by hand and fill the truck with lights received from all over the US.
Last week, we used all the proceeds from the recycling program to purchase donations then loaded them into the back and the front of the car.
This year's donations were Usborne books and projects kits that are targeted to the age range of 10-14 year range. We hope this underserved group of kids appreciate these wonderful fun but sneakily educational products.
Our friend, Becky Dean, at usbornebooks.com was a great help during this part of the process.
Active service Marines volunteer time during the Holidays to volunteer for the Toys for Tots program.
We appreciated their help unloading!
This really is one of my favorite projects of the year.
Again, many thanks for your participation. We'll be continuing this program for 2021. For more information see our Christmas Lights Recycling Page.
More Questions?
Here are a few answers I recently wrote for a reporter writing an article about our recycling program.
1. Why did you and your husband start the company?
We started Christmas Light Source (CLS) in 2005 when our kids were small back in 2005. I wanted to create a business that would allow me to work but also be available to raise our two small boys. I had been an electrical engineer who had also worked in program management and technical sales. Christmas lights plus a fully online internet store model without a brick and mortar storefront made a combination that was a perfect fit. Our business has grown with telecommuting technology allowing CLS to employ women and men across the country and on the other side of the world.
Since starting we've helped businesses, restaurants, cities, government agencies, and residential users across the country make their celebrations just a little bit brighter.
2. Are you based in Benbrook?
Yes, but we like to think of ourselves more as based in Fort Worth. Our business office is located here and lights are warehoused here and in West Texas.
3. What does the company offer in terms of products and services?
We offer all types of Christmas lights from the most traditional incandescent style bulbs that many folks remember from their childhoods to the latest in LED Christmas lighting products. Our product line is built of over 1400 items including light strings, bulbs, cords, icicles, nets, and rope light spools. We also carry lights that work great for patios all year - not just for the Holidays.
4. When did you start the Christmas Lights recycling program?
We started our Christmas lights recycling program about 4-5 years after we started the business - about 10 years ago. We took time because it was important to find a recycler who would help us recycle the lights in as efficient and as clean a way as possible. It started with just a few hundred pounds the first year but has grown into a 6000-8000 pound a year adventure. We unbox all the lights sent to us, load them into our truck, and transport them to a local recycler. All of the proceeds are then used to purchase educational toys and books that are donated to Toys for Tots. We love that this program keeps lights out of landfills and benefits young people. We usually purchase gifts targeted to the 10-14-year-old age range since this age group usually has the greatest need for contributions.
5. From where do you receive lights for recycling? From how far away?
We receive lights from all over the United States - from Washington to Florida. From contributions as small as a single light string to several pallets of lights collected by a high school.
6. What do you do with the lights that are to be recycled?
We take them to a local recycler who strips and recycles glass, metal, plastic, and wiring in the lights.
7. Which parts of the light strings can be recycled?
Glass, metal, plastic insulation, and wire!
8. Can they be reused and made into other products?
The lights themselves cannot be reused and made into other products but their components do work their way back into the manufacturing cycle.
There are times we receive lights that have never been used. Their packages are new and sealed. We take these lights to a local charity that sells them in a thrift shop that supports a women's shelter. We think that's a better and higher use before they are recycled.
9. Is the recycling program year-round?
Yes! We receive lights all year.
10. Are there drop-off sites, or is collection of the lights done only by mail?
Collection is done primarily by mail but we do have folks in the Fort Worth area who make arrangements for dropping off by calling our office at 817-926-4877.
11. How many lights do you recycle each year?
It averages 6000-8000 pounds per year.
12. Is your company environmentally friendly in other ways?
Yes. We are environmentally conscious in the following ways:
1. We rely on electronic order confirmation and don't include unnecessary paperwork on our shipments.
2. Our lights are packaged in ultra-thin poly bags instead of bulky retail-style packaging. Saves trees and makes cleanup after light installation easier.
3. Our bulbs are packaged in thin, recyclable, cardboard crates that hold up really well during shipping so we don't have to use massive amounts of bubble wrap to keep lights safe to their destination. (And they make great storage, providing protection when storing the bulbs!)
5. The LED lighting products we sell use up to 90% less energy than their traditional counterparts. We do sell both kinds of lighting and encourage folks who go the traditional route to use timers in their lighting displays to save electricity.
---