Keep the feeling all year.
Lighting Christmas since 2005.
Christmas lights are a cherished tradition that brings joy and wonder to the holiday season. For many, the sight of colorful lights illuminating homes, trees, and streets marks the start of the holiday season. This beloved tradition has its roots in the 18th century when candles were used to light Christmas trees. Over time, the use of candles was replaced with safer and more practical electric lights. Today, Christmas lights come in all shapes and sizes, from classic incandescent bulbs to energy-efficient LEDs. Decorating with Christmas lights is a fun way to bring the holiday spirit to your home and delight children and adults alike.
C7 and C9 Bulbs and Cords for Houses and Trees
Traditional or LED? Choose your favorite multicolor bulb.
For indoor or outdoor decorating all year.
LED Christmas Lights by Color
LED Light Strings by Shape
A traditional set of lights
Light Christmas trees and parties all year.
Our Favorite Classic Light Set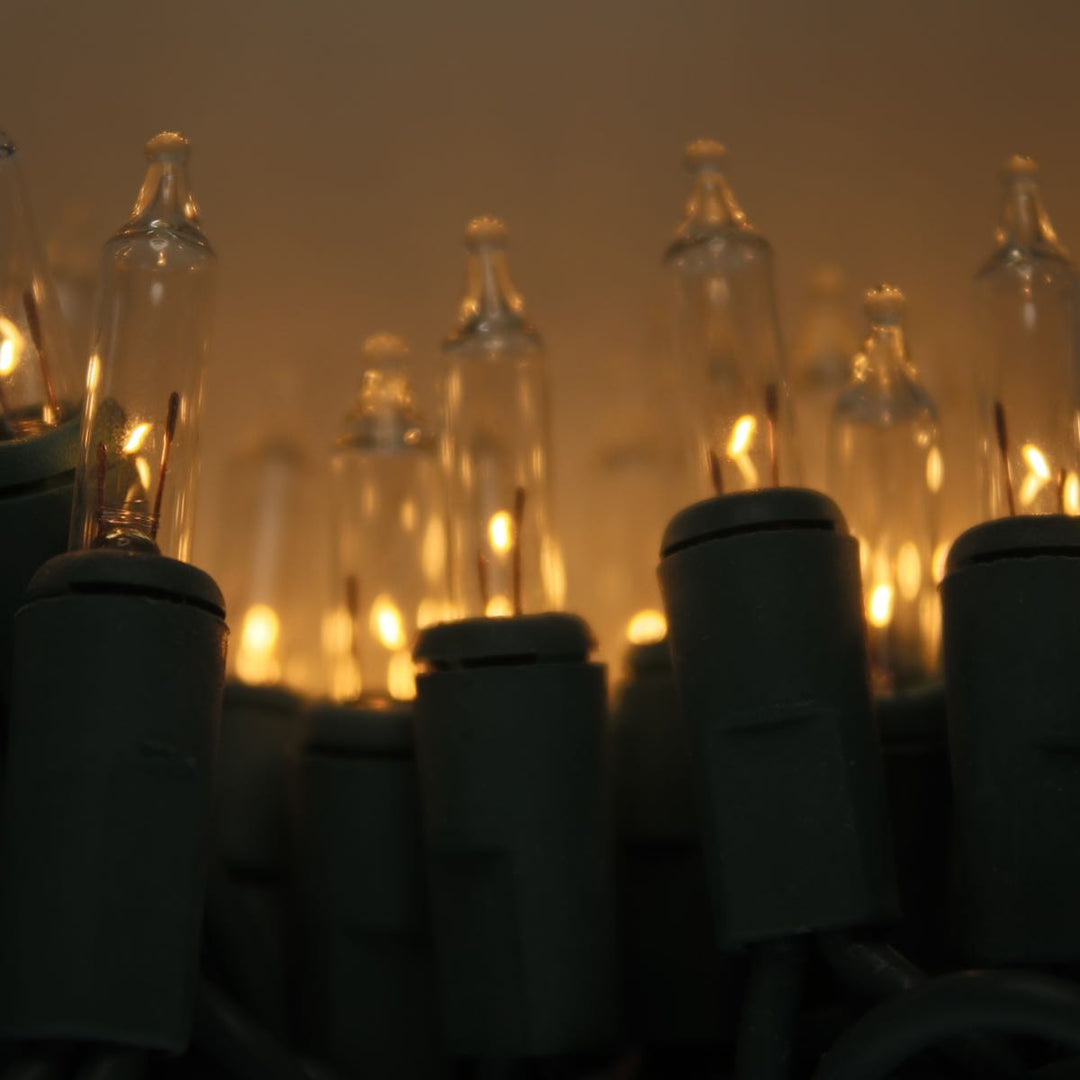 Choose a Favorite Color for Your Next Party
Icicle Lights
A classic look to combine with curtain lights or outline a roofline with vintage charm.
Net Lights
A grid of evenly spaced bulbs makes lighting shrubbery and tree trunks easy.
Don't let anyone accuse you of having an untidy bush.
Rope Light
Protected in a plastic casing, use rope light to outline Santa's sleigh or light a private boardwalk.
More about Christmas Lights
Christmas lights are a popular holiday decoration that brightens homes and businesses during Christmas. In recent years, cheerful strings of mini and patio lights are appearing all year at parties, special events, and over backyard patios for special Fridays.
Available in various colors, shapes, and sizes, everyone can use lights to decorate trees, bushes, houses, and walkways. Christmas lights are often used to create festive displays and can be a great way to get the Holiday spirit.
The first Christmas lights were invented in 1882 by Edward H. Johnson, an employee of Thomas Edison. Johnson created a string of 80 red, white, and blue lights powered by a battery. These lights were a hit with the public, and soon Christmas lights became a popular holiday decoration.
In the early days, Christmas lights were made with incandescent bulbs. These bulbs were fragile and had a short lifespan. In the 1970s, LED bulbs were invented. LED lights are more durable and last longer than incandescent bulbs. They are also more energy-efficient than their incandescent counterparts, which makes them a more environmentally friendly choice.
Today, many different types of Christmas lights are available. Some of the most popular types include:
Mini lights: Customers often use these light strings with small bulbs to decorate Christmas trees. They work well to decorate any tree and are easy to use to decorate parties and receptions.
Net lights: These are large, mesh-like lights that folks often use to cover trees and fences. They also create amazing backdrops. Use them to light ancient tree trunks.
Icicle lights: These traditional long, thin lights hang down like "real" icicles. A classic, they look great with light strings and nets.
Rope lights: These are long, flexible lights that look great on patios, can be wrapped around columns and trees, and light walkways and piers.
Christmas lights are a fun and festive holiday celebration. Use them to brighten up any home or business and are a great way to get into the holiday spirit.