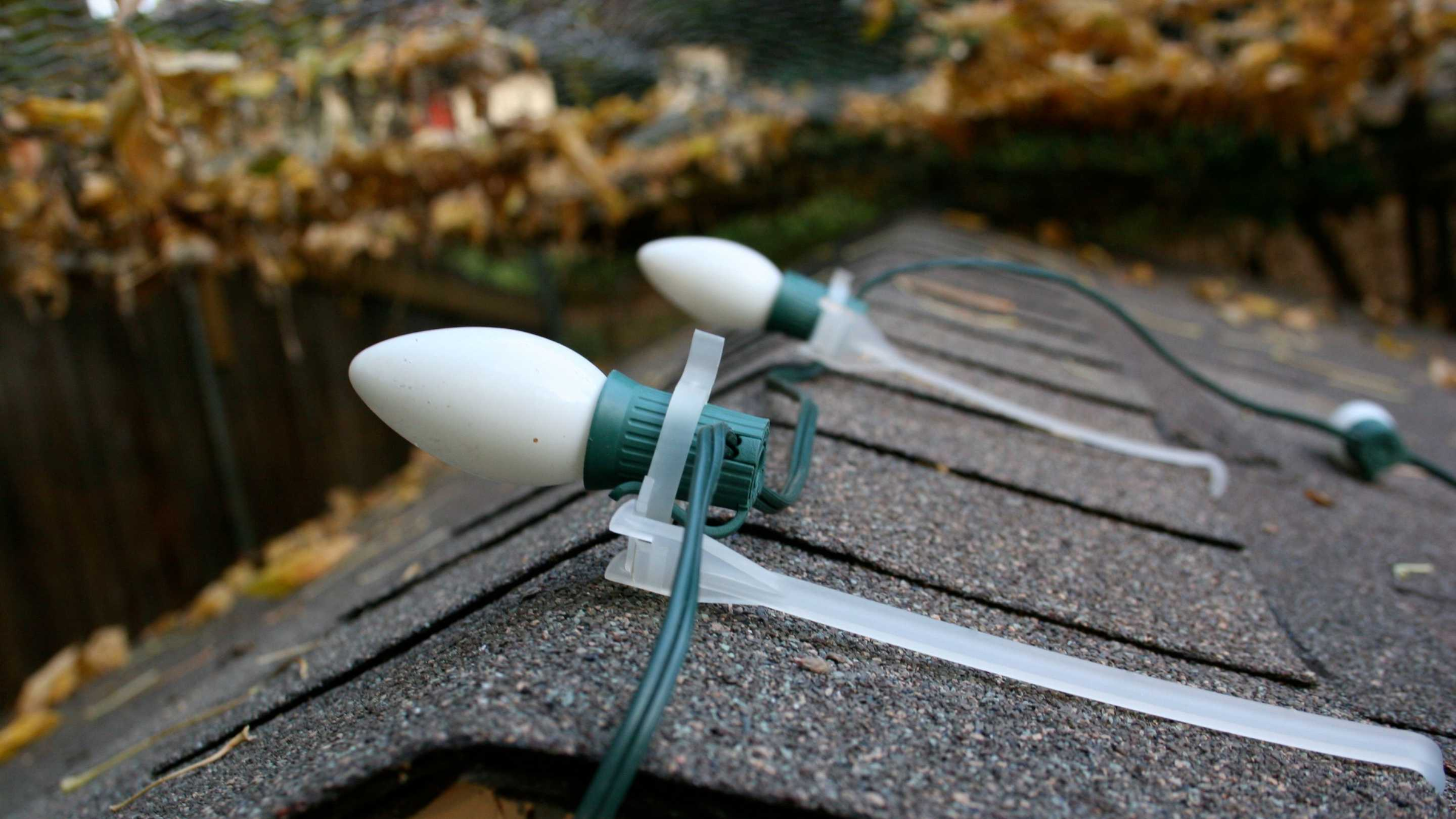 Installation Hardware and Accessories
So you've selected the perfect Christmas Light sets - what next?
Now it's time to select the best Christmas light installation hardware for your special project.
We carry a complete line of commercial quality clips, stakes, and accessories. The Original Shingle tab revolutionized roofline Christmas light installation. Combined with a flat parapet clip, you can install you C7 and C9 Christmas lights in a sharp line along a flat roof. With this configuration, your lights are installed with the tip of the bulb facing you.
Our line of All In One Clips lets you mount your bulbs upright. Our latest addition to the line, the LED All in One light clip, has become a fast favorite and has sold out quickly for the last two seasons.
Choosing Hardware for Christmas Lighting
After selecting the color and style of lights to brighten Christmas, a wedding or a party, the next step in completing a tailored and finished project is to choose hardware for installing your cords, bulbs or nets.
Don't know where to begin? Here are some friendly suggestions based on our frequently asked questions to get you started! (If you have a question of your own that isn't answered here, please submit it via our contact page and we'll add answer you and possibly add it to this page.
Best tips for installing separately purchased C7 or C9 cords/bulbs along a shingle edge
Almost all of our clips are designed to work with this specific product line. Whether you are working with LED or incandescent bulbs, our All in One line of clips are great for installing lights along a roofline. These clips have a clip that will work on the larger C7 or C9 sockets. For pre-wired LED Christmas lights the best/only option for a tight installation line along the roof edge is to use LED All in One Clips.
How do I install C7 or C9 cords/bulbs on a gutter?
The All in One line of clips can all be flipped around to snap onto your gutter. See our blog post showing what this looks like in real application.
How do I outline the yard or lighting a pathway
Outlining your yard or flowerbed? Choose from one of our yard stakes to use with C7 and C9 18 gauge stringer wire.
Do you have any ideas for hanging up lights for a party?
Install lights along a fence line with our surface mount clips. Consider wrapping trees with mini lights or trunk lights. These can be installed on your trees using wire ties and don't require that you nail into the bark.
How do I install lights on a pergola or gazebo?
Choose either Kwik Clips if the installation surface can be hammered into. Wire ties also provide a secure installation without adding holes to your outdoor structure. You can also change and replace the wire ties quickly and easily. Hanging net lights in a window
Use Kwik Clips or tension rods that can be purchased at any local big box or hardware store.
Any suggestions on how to hang icicle lights?
The Icicle All in One clip is designed with a special hook for your light strings.
What's the best way to install mini lights around the house and in my backyard?
Around a window use mini light adhesive clips. The LED All in One clip is a good choice if you are planning to install smaller mini lights at the roof's edge of a home or outbuilding. The smaller clip base of the LED clip should snug around the smaller base of a mini light.
What hardware do I need with C7 and C9 spools?
Since you cannott run more than 200 feet of 18 AWG wire in a single run (consult with a master electrician for all electrical installations that require customization) you willl need to choose male and female plug ends to accompany your spool purchases.
I want to install pre-wire LED strings along my roofline but can't find anything to fit around the smaller bases? Can you help me?
Use the LED all in one clip to install pre-wired LED string lights along a shingle edge or gutter.
I'm downtown and I'm installing lights on a flat roof for a business. Any suggestions?
Use either a shingle tab in conjunction with a parapet clip or a combo-C clip to install your traditional C7 or C9 stringer wire along a flat roof or surface.