What exactly are "string lights"?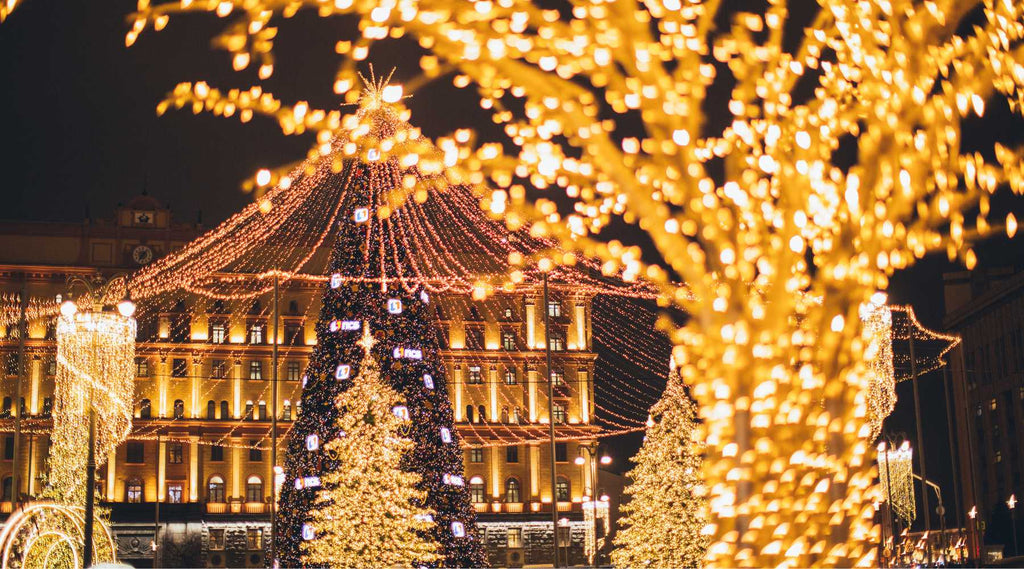 In a world of ever-changing vocabulary, the term Christmas "string lights" applies to any Christmas sets that are strung together and used to decorate for Christmas. This includes traditional incandescent lights, as well as LED lights, 12-volt lights, and battery lights.
Christmas string lights are used to decorate both indoor and outdoor spaces, and they come in a variety of colors, shapes, and sizes.
Since Christmas is just around the corner, we thought we'd share the available options available under the "string lights" category. 
Mini lights: Mini lights are the smallest and most common type of Christmas string lights. They are available in tons of colors in both glass and LED with wiring colors of green, white, brown, black, and red.
C9 and C7 lights: C9/C7 lights are manufactured either as "plug and play" sets that run several 100's of feet in series or sold as separate traditional bulbs and cords. These light strings are larger than mini lights, and they are often used to decorate outdoor spaces, such as roofs and eaves.
C9/C7 string lights are typically available in white plus all the traditional Christmas colors as well as teal, pink, and purple. Pre-wire light sets are LED while individually sold bulbs can be either LED or glass (incandescent) and can be mixed on the same 18 AWG Christmas cords.
Icicle lights: Icicle lights are long, leggy lights that resemble icicles. They are often used to decorate roofs, eaves, and trees. Icicle lights are typically available in white and blue, but they can also be found in other colors, as well. This category of lights are also available in both glass and LED and in colors to coordinate with Christmas tree lights or net lights.
Net lights: Net lights are pre-strung lights that are typically used to decorate trees and shrubs. Net lights come in a variety of sizes and colors, and they make it easy to decorate large areas quickly and easily. (We love these sets for "emergency" shrubbery lighting!
12 Volt: 12-volt LED light strings are a great option for people who want to decorate their cars and RV's without purchasing an inverter. They are also ideal for projects where an outlet isn't handy and they can be connected to a marine or similar 12 volt battery with an accessory plug to alligator clip adapter.
Battery lights: Battery string lights are another great option for people who want to decorate their homes for Christmas without having to worry about plugging in cords. They are especially ideal for decorating tablescapes and filling glass bottles and glass bricks.
No matter what type of Christmas string lights you choose, they are a great way to add festive cheer to your home and yard during the holiday season.
---