13 Ways to use your Christmas Lights All Year!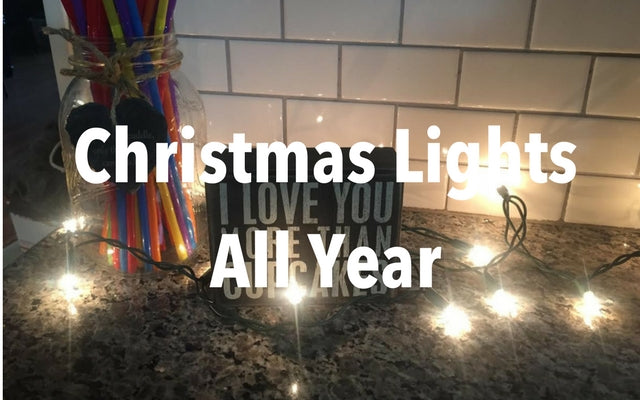 Don't keep your Christmas lights in the storage closet this year.
Pull them out and put them to work. Lights that have made your Holiday sparkle will make other events and everyday living brighter all year.
Be inspired by these ideas and come up with a few of your own.
Parties
After you've planned the menu, picked a theme and texted your friends, don't forget the lights.
1. White Christmas tree lights installed above your patio will add a lovely glow to your after-dinner conversation.
Or consider replacing traditional C7 or C9 bulbs with round bulbs with the correct base like the photo above!
2. Create a runway along your driveway in your sports team's colors to guide guests to your door
3. Hang curtains of lights at the edges of your garden along your fence or use them to separate different party spaces.
4. Wrap your trees with mini lights, trunk wrap nets or C7/C9 bulbs and cords
In the Kitchen
5. Use lights to make your kitchen feel welcoming. Accent your countertops and the areas above your cabinets.
6. Fill mason jars with craft and battery lights and nestle them into greenery and art objects above your cabinets
7. Use rope lights to throw light above your cabinets or outline the edges of the bases of them.
8. Fill clear canisters with lights in colors corresponding to changing seasons then remove and refresh as you go through the year.
In the Garden
Lighting is one of the cheapest and easiest ways to update your yard - either front or back - without having to use a shovel. All white lights will give your yard a magical, traditional feel or you can change the color of the lights based on the season. (Like red and pink for Valentines Day or green for March.)
9. Wrap trees and columns with mini lights strings or net lights. Choose wider, 6-inch spacing if you use mini lights to get more length from your strands if you are working with massive trees. For smaller shrubs and plantings, consider four-inch spacing.
10. Hang curtains of lights from the top of your fences.
11. Wire tie lights to the supports under your patio umbrella.
12. Accent the trees around your water features to see their reflections in your swimming pool or fountain.
13. Span open areas between poles with round party lights and cords to light up your yard the same way restaurants light their outdoor eating areas.
---