DIY: Installing Christmas lights on yard art!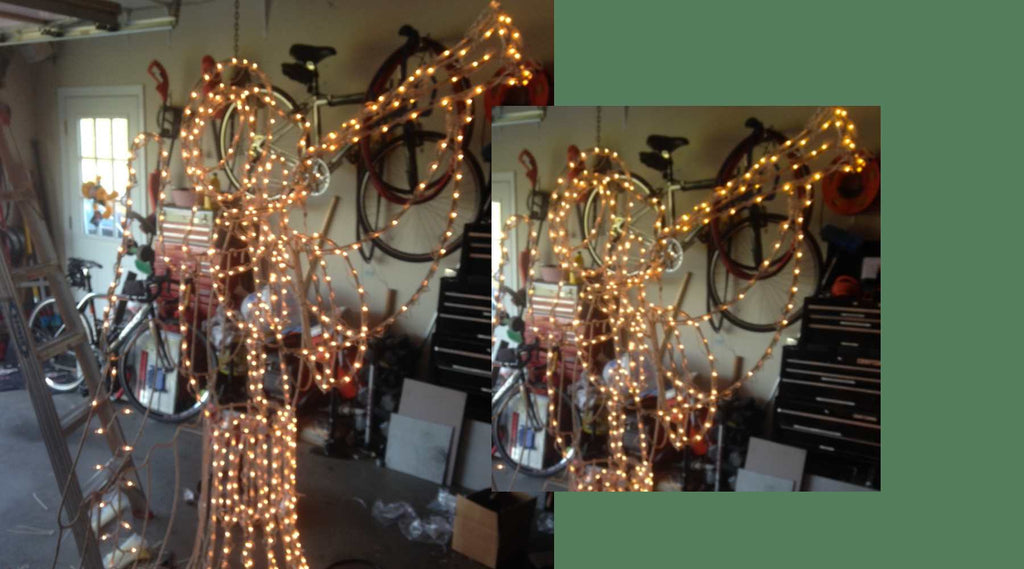 This Christmas yard angel had lost its glow but fortunately for this beautiful sculpture, Tim, the owner, decided to repair and replace rather than recycle it.
When you are working on a project lights this, here are a few handy tips to keep in mind:
1. Accurately measure your frame in several places.
Some older frames can vary in diameter in different locations. Since sculpture clips and clips that are built into the bases of Christmas lights are made of rigid plastic, there won't be much give in the clips. If a random clip breaks during installation, more than likely, the frame has a slightly larger diameter in that area.
Measure your frame by tightening an adjustable wrench onto your project and measuring the gap. That's the diameter of the clip you'll need for your project.
2. Purchase light strings that have close spacing.
You'll need those lights to be tight in on one another to light small gaps and go around corners. The less wire between the bulbs, the better.
3. Look for light strings with white wire.
As a rule of thumb, white wiring will be less noticeable during the day than green.
4. Think outside the box when it comes to color.
Your sculpture or yard art may have come with white light strings but changing things up might spice up your yard. Instead of white, choose yellow for a warmer feel. Re-wire your deer with fun alternative colors like teal or red.
5. Consider setting up your project in the garage.
Set your yard art up in the garage and spend a few evenings in the luxury of the indoors when replacing the lights on your yard art. Your fingertips will thank you and all your tools with be super-handy.
6. Purchase a couple of extra strings of lights.
It's easy to underestimate what you'll need for your project unless you remove and measure the mini lights that came with your deer or Santa. If you are like most folks, myself included, you think of measuring after you've already stripped and thrown out the lights.
Also, consider purchasing an extra strand of lights to replace bulbs should bad weather break a bulb or two.
---