Decorating For Halloween With Christmas Lights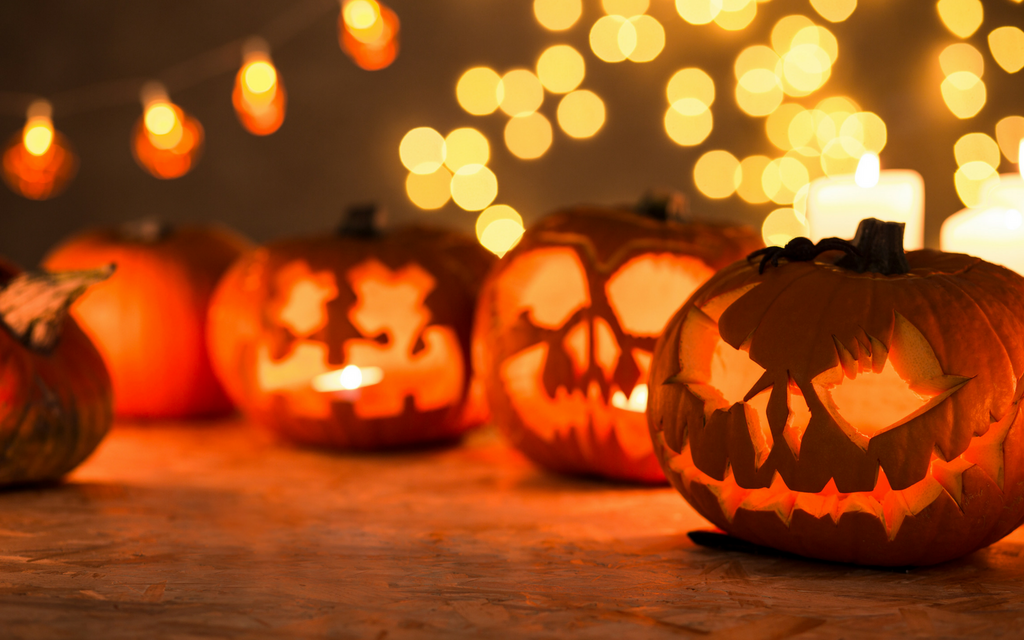 Using Christmas lights to decorate for Halloween is a great way to put to good use lights that may only see action a few weeks of the year.
Pull out your bins and take an inventory of light strings and lights with bulbs that might work for October.
Look for these colors: purple, orange, yellow, and green.
If you have C7 and C9 cord but all white bulbs, a quick purchase and install of either incandescent or LED bulbs in the Fall colors make decoring for Halloween easy. Wait a month, then switch back to white or multi.
Decorate Outside
Orange and purple mini light sets - both incandescent and LED versions - look fantastic when they're draped across shrubs and bushes. Orange net lights on black wire make it a very easy job to light shrubs for October 31st.
Tree branches and tree trunks will also appear festive yet spooky wrapped with mini lights.
Decorating your yard for Halloween really is perfect for the person who would like to leave his or her Christmas lights up for several months but can't (at least not technically!).
Other Decorating Tips
After hanging and wrapping lights, fog machines are easily obtained online or from your local retail store. These machines are great for creating a smoky area around the doorway of your home.
Fog machines can be found locally at those pop-up Halloween costume shops. Our local costume and magic store carries them all year.
Outline your front door with orange and purple mini lights. They'll look really cool glowing through the smoke! Rope lights are the perfect choice for creating small or huge spider webs on a black background (a black piece of fabric from your local fabric store works great).
In the yard, use purple mini lights to outline gravestones for an eerie look. Then, use Christmas light stakes to string lights around the graveyard to look like a fence. To welcome your guests, line your sidewalk leading to your home with C7 or C9 transparent lights in orange and/or purple.
Haunted houses are a huge attraction during Halloween. Some people just love to be scared out of their wits! If your organization is setting up one of these October traditions, use opaque C7 and C9 or LED C7 and C9 bulbs and cords in purple or orange to cast an eerie glow anywhere you need it inside or outside the haunted house.
Outline coffins, creatures, black holes, dark doorways, or trap doors with our purple, orange or green mini lights. LED lights have the advantage of staying really cool so if you have a lot fabric hanging with your lights, consider going that route.
Accent a plastic witches cauldron with red and orange mini lights that have a built-in controller - set them on the slow fade function where they come on and go off very gradually and they'll look like glowing embers if you add a thin layer of black organza to your pot!
Don't forget creating Halloween vibes inside your home.
A Couple of Easy Projects
There's no limit to your imagination when it comes to using lights to decorate your home inside and out for Halloween. Just think of what would scare you!
---