Cinderella Horse Drawn Carriage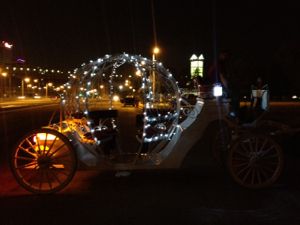 Looking for a romantic way to celebrate the holidays?
Take your loved one on a horse-drawn carriage ride through downtown Memphis. The Cinderella Carriage from Uptown Carriages is the perfect way to experience the season's magic.
The carriage is decorated with pure white 12-volt lights on white wire, creating a truly magical atmosphere. You'll feel like you're in a winter wonderland as you glide through the streets, taking in the sights and sounds of the city.
The carriage ride is great for getting close to your loved one and creating lasting memories. So what are you waiting for? Book your ride today!
Here are some of the benefits of taking a horse-drawn carriage ride:
It's a unique and romantic experience.
You'll get to see the city from a different perspective.
It's a great way to get some exercise.
It's a fun and affordable activity for couples.
Contact Uptown Carriages at (901) 496-2128 to book your ride.
Here are some additional tips for planning your horse-drawn carriage ride:
Dress warmly, as it can get chilly at night.
Bring a camera to capture the memories.
Tip your driver!
I hope you have a wonderful time on your horse-drawn carriage ride!
Installing the lights is easy because you can run up to 30 sets of lights in series. Each set of lights has a male and female connector so you use one 15-foot extension cord to begin your run of lights and then connect them end to end to complete your project.
You may not be decorating a Cinderella carriage but think of what you could do with your golf cart or a parade float!
Or use these lights to accent an outdoor garden frame for a party or event.
If you'd like to try this at home, here are some of the supplies you'll need:
---