Christmas Lights Design Guide
How do I choose the right Christmas light?
String lights? Cords and bulbs? Traditional? LED? With the wide array of options available, it can be tough deciding exactly where to start.
Whether you are outlining your yard, planning the perfect Christmas tree, or decorating for the Superbowl Party, we want to help you make your next Celebration sparkle.
Start with our application table then scroll down the page for a quick overview of our product lines.
If you are planning for Halloween, be sure to check out our Halloween Design Guide.
Mini Lights
Whether you call them Christmas tree lights, twinkle lights or fairy lights, traditional incandescent lights have been the most popular choice with our customers since we began selling lights online in 2005.
They work great for projects like:
Christmas trees (of course!)
Wrapping tree trunks and limbs
Draping above patios

Decorating Weddings and receptions
Lighting up a reading nook for a special reader
Parties!

Every holiday - don't forget Halloween, Valentines, St Patricks and Patriotic Celebrations
String lights come in different light spacings (depending on the number of lights per strand, the spacing determines the length of the strands).
There are several specifications to consider when choosing the perfect strand:
Bulb Color (white is always #1)
Bulb spacing

Wiring color
Number of bulbs
Net Lights for Shrubs and Wrapping Tree Trunks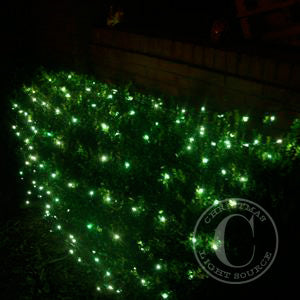 A grid of evenly spaced bulbs, net lights are a quick and easy way to decorate:
Non-traditional uses include:
Walls of light
Ceilings of stars
Summer garden decor
Wrapping trees with larger trunks
Icicle Lights
Accenting a roofline is easy with icicle lights. These light sets look especially nice on homes with varying elevations in the roofline. Historic homes with circular turrets and Victorian gingerbread are really highlighted with white icicle lights on white wire.
Try using icicle lights on and in:
Battery Operated Lights
Whenever you need some lights but have no outlet? battery lights are the best solution. Perfect for projects like:
Table centerpieces
Wedding receptions and banquets
Mosaic Projects
Filling Glass Blocks
Lighting up wine and liquor bottles
Our LED battery lights have been used in these kinds projects:
Theatrical productions
Costumes
Glass blocks for showers and parties
Traditional Incandescent and LED Bulbs and Cords
Nothing says Christmas like a roof line crisply outlined in C9 bulbs all snapped to attention by the right installation clips. C7 bulbs have E12 or candelabra bases and are the size of a nightlight - they even fit in most night lights. C9 bulbs have intermediate bases (also known as E17) and the bulbs are almost 2 inches tall.
With a tapered look, these lights are perfect for decorating for Christmas and other Holidays - don't forget Halloween - it's now the number two market for Christmas lights.
We sell our bulbs and cords separately to keep down costs for you and allow you the ultimate in versatility. Want blue, yellow and orange lights? It's easy to order boxes of 25 bulbs in each of these colors and then order enough cord for your project. Keep in mind to use seek out the wise counsel of a master electrician if you have any questions about how to install these lights.
Lights for Restaurants
These filament bulbs come in frosted, clear and multi. They have a completely different base than either C7 or C9 - it's a larger base that is referred to as Medium or E26. The largest and brightest of our bulbs, these are great for gardens, gazebos and stringing across wide spaces.
The cords for these bulbs are also sold separately and come in a spool of 250 feet and we carry plugs for your electrician to use to cut custom lengths. At a hefty 12 AWG, you can urn up to 250 feet (200 bulbs) in one run. These cords come in either black or white and are great for either patios and gazebos or restaurant exterior lighting.
LED Christmas Lights
Take advantage of the cost savings and easy installation and consider installing our LED Christmas light sets this Holiday Season. Our sets feature jewel-toned colored lenses, a wide variety of shapes from small M5 lenses that work to accent anything to larger C7 and C9 lens styles that are larger and show up nicely in their own right. From traditional white to red and then to electric purples and pinks, you will have a tough decision choosing the best shaped lens and color for your project.
With the ability to run 1000's of LEDs off a single breaker, these sets make installation easier - less need to run extension cords all over your roof. Non-breakable lenses means that they are more durable during wind storms and storage.
12 Volt LED Lights
Lights for parades, camping and Holiday fun in your car!
-our 12 volt lights decorating a stunning horse drawn carriage in Memphis
One of our most popular newer products, these 9.5 feet of lit length 12 volt sets have a car accessory plug and are perfect for parades, motorcycles, and golf carts. We've even had some customers use them in the cabs of their pick up trucks while on search and rescue.
These lights are not tailored for landscape lighting and do not have standard plugs. See photos of these lights on their category page. Their connector is a standard car accessory plug.
Rope lights
We carry a wide line of rope lights - also known as plastic neon lighting. All of rope lighting is incandescent and sold in rolls of 150 feet with a maximum run length of 75 feet.
Our customers are using this style of lighting in their:
Christmas displays
Restaurants
Along stages
Above kitchen counters

Signs
Along boat dock
Pin ball games
Installation Hardware and Accessories
The key to a professional looking Christmas light display is to use professional clips and stakes.
Installers all over the country use the patented All in One clips, Original Shingle tabs and parapet clips and our mini light adhesive clips.
Throw in some wonderful tree clips, black out caps, timers and extension cords and we have just about everything you might want to choose from for your installation.
Our stakes are commercial grade and the universal stakes can be hammered into the ground - great for icy conditions.
Check out our installation clips application grid - it has some suggestions about what to use for different applications.
Stay in the loop! Sign up for our mailing list today.